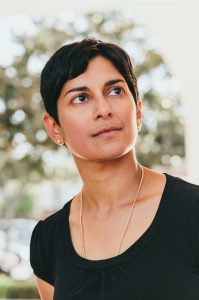 Our interview with S.B. Divya author of great works such as Runtime and Contingency Plans for the Apocalypse and co-editor of Escape Pod. Find her work at www.eff-words.com
Some works we discussed:
The Revolution Brought to You by Nike by Andrea Phillips published in Fireside Magazine. Also available in audio from Escape Pod.
Cat Pictures Please  by Naomi Kritzer published in Clarkesworld.
Utopia, LOL? by Jamie Wahls published in Strange Horizons.
Runtime  by S.B. Divya published by Tor.com.
Dread Nation by Justina Ireland published by Balzer + Bray.
Infomacracy by Malka Older published by Tor.com.
Podcast: Play in new window | Download
Subscribe: Google Podcasts | Spotify | iHeartRadio | TuneIn | Deezer | RSS